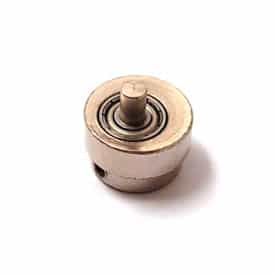 Rotary Tattoo Machine Liner Cam/bearing/wheel
Rotary tattoo machine liner cam wheel for all 1st generation Hildbrandt rotary machines. This is a small size cam wheel designed for lining, capable of a stroke of up to 3mm. The general rule of thumb is, for direct rotaries, the smaller the cam wheel, the faster the machine, the more suited it is for lining. This cam wheel will fit the Executioner, Assassin, Marksman and Sniper. It is likely it will fit many other rotary tattoo machines on the market as well as along as the drive shaft of the motor is able to fit inside the connecting hole of the wheel. Product code HRMLC.
info
Rotary Tattoo Machine Parts
We sell a lot of parts including rotary tattoo machine parts. We are a premier builder and importer of equipment and machines for the tattoo industry and if you are looking for spare parts, check with us, we'll probably have something for you. This particular part is used for a rotary tattoo machine which consists of a motor, cam wheel, frame and tube vise. We have a total of 4 rotaries to choose from.
Liner and Shader Cam for Rotary Tattoo Machines
What is the difference between a liner cam and a shader cam for rotary tattoo machines? As with coil guns, a liner should run fast and a shader should run light and slightly slower. To achieve this with a motor driven piece, you will need a smaller diameter cam for more speed and a larger diameter cam for less speed.
Only logged in customers who have purchased this product may leave a review.