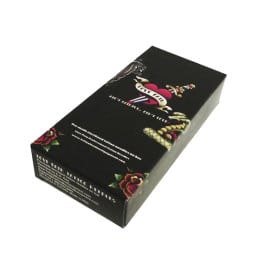 Lovepain Premium Tattoo Needles Expired Sale
This listing is for your choice of which size of high quality tattoo needles you would like to purchase. These are not your typical budget needles, these are perfectly crafted professional tattoo needles.  These needles are produced similar to how fine jewellery is made.  Each needle is soldered, finished, polished and magnifying glass inspected.  The ones that pass continue onto tumbler polishing.  This process tumbles the needles in a large container with metal polishing beads in a solution.  This process removes all small pits or bits of solder and oxidization.  So why are these premium high end tattoo needles so cheap you ask?  They are expiring in the middle of next year, so the tattoo supplier we bought in bulk from was willing to offload them to us at a discount and we are in turn discounting them for our customers.
Please note that 3 boxes and 6 boxes, if you wish to mix sizes, we are able to at 50pcs per size. You will have to contact us once order is made with preferred sizes.
Pre-made sterile needle configurations soldered on a bar, individually sealed in sterile blister pack.  To ensure quality and proper sterilization, we randomly sample new productions to undergo secondary sterilization testing by an independent lab.  Name and contact of lab available upon request.
Sterilized with expiration date
Pre-soldered
Packages of 50pcs / box or 150pcs / 3 boxes or 300pcs/ 6 boxes
Stainless Steel
Needle Specifications
Round Liners – #10, .30 mm needles, 4.2 mm taper
Round Shaders – #12, 0.35mm diameter, 3.2mm taper
Flats – #12, 0.35mm diameter, 3.2mm taper
Stacked Magnums – #12, 0.35mm diameter, 3.2mm taper
Weaved Magnums – #12, 0.35mm diameter, 3.2mm taper
Only logged in customers who have purchased this product may leave a review.