We had the pleasure of doing business with Jimmy Von Lemon at The Lemon Ranch Tattoo Studio (what a unique name!) the first week of this month.  He was in a rush to get a pair of our Hildbrandt Silencer rotary machines to get some work done over the weekend and we were happy to help rush his order out express.  Jimmy shot us over some kind emails and shared with us the work he did over that weekend with the Silencer.  We were happy that the tattoo turned out beautifully!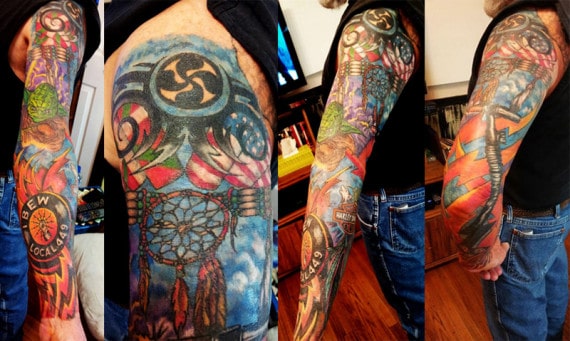 Beautiful, vivid color among an ocean of imagery, this is as custom as it gets!
Jimmy Von Lemon has been a tattoo artist for over 20 years.  He specializes in 100% original, hand drawn pieces.  He does full color, black/grey, zero outlines, pin-up girls, tribals, floral, aquatic, wildlife and large scale full body tattoos.  Jimmy is an artist/illustrator and will only do portraits that require drawing/tattooing in an illustrative style with close development with the client for the approved final artwork.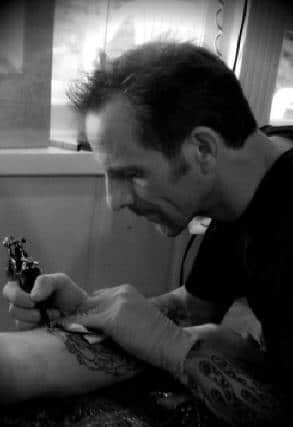 Jimmy Von Lemon
The Lemon Ranch Tattoo Studio is located on 1406 East Wyeth Street, Pocatello, Idaho.  Prominently displayed on the corner of East Wyeth and N. 13th Avenue, the studio offers a friendly environment with ample street parking and great dining nearby.
Thank you Jimmy Von Lemon for your follow up emails, Nancy was very happy when she received them, she's new here and she's trying her best to provide friendly and top-notch customer service to all of our customers.
So folks, if your ever in Pocatello, Idaho and are looking for a great custom tattoo, stop by and see Jimmy at The Lemon Ranch Tattoo Studio!