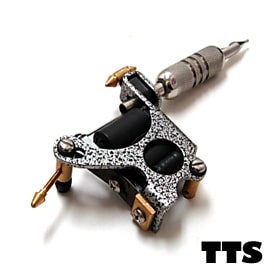 TTS Tattoo Machines: The Roundabout
TTS tattoo machines presents the Roundabout, a beautifully decorated pewter frame with a faux stoned finishing. The frame shape is in an artistic roundabout, hence the model name. This machine is setup as a shader and will glide through shading jobs with ease. Product code: MRA1
info
TTS Tattoo Machines
TTS tattoo machines has a long history in the tattooing world. Originating from New York, Technical Tattoo Supply produced excellent equipment at fair prices. We have a long standing relationship with Technical and we are happy to assist our customers to order other machines that we do not currently stock. Customization of coils and springs is also available but will require some waiting time.
Tattoo Machines Sale
On occasion we will create new discount promotion codes when we have tattoo machines sale offers for all major brands. If you are interested in knowing if there is one going on while you are browsing our site, send us an email and we'll let you know. Usually this happens about every 2 to 3 months. The typical tattoo machines sale promotion code will be about 5%-10% off of the regular price. The code is not stackable with other discount codes for our website.
Only logged in customers who have purchased this product may leave a review.