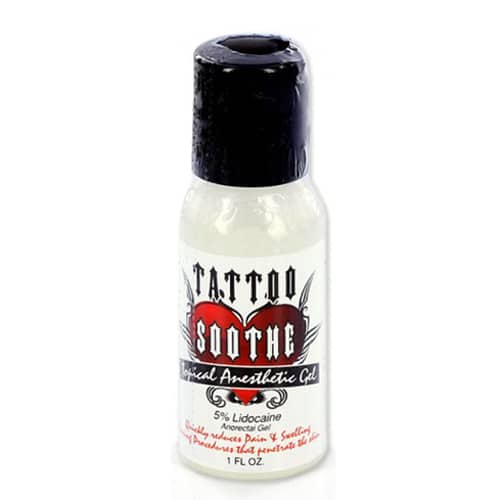 Tattoo Soothe Anesthetic Numbing Gel 1oz
Tattoo Soothe anesthetic numbing gel in 1oz squeeze bottle. This product contains lidocaine, an anesthetic that has a long history of safe usage within the medical community. This product contains 5% Lidocaine, which provides enough active ingredient to really numb away the pain. THIS PRODUCT DOES NOT SHIP TO CANADA.
Pain is caused by the stimulation of pain receptors at the ends of nerves. Stimulation causes sodium to enter the nerve ending which causes an electrical signal in the nerve. The signal passes along the nerve to the brain where it is interpreted as pain. Tattoo Soothe works by temporarily blocking the path of the pain signals along the nerves. This is done by preventing the sodium entering the nerve ending at the site of pain thus preventing the signal passing along the nerves to the brain. Tattoo Soothe is safe to be used for tattooing and will not effect the ink or the healing time. The tattoo industry uses this product to numb the area of tattoo procedure for body piercing, tattooing, permanent makeup, needle injections and aftercare.
Duration: 3 1/2 hours
Size: 1oz bottle
Product Code: TSOOG1Z
Only logged in customers who have purchased this product may leave a review.