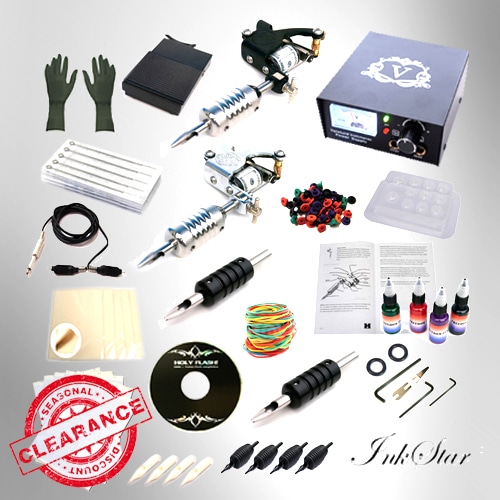 Tattoo Kit: Inkstar 2 Machine Mini Starter Kit
CLEARANCE SALE! $39.99 REGULAR PRICE, NOW $29.99! WHILE QUANTITIES LAST!
The Inkstar Mini Starter Tattoo Kit comes jam packed full of all the necessary equipment you need to start learning how to tattoo.  In addition to everything that comes with this package, we include the Hildbrandt Tattoo Equipment and Supplies Crash Course and the professionally produced Holy Flash 6000 tattoo flash design CD to get you started.  Inkstar machines are made with excellent attention to quality control.  The signature Inkstar short coils allow for lower voltage settings requirements for your power supply, resulting in less chances of the frame heating up.  There is a 6 month warranty that covers all hardware for these kits, consumables are not covered.
Read More
Tattoo Kit Comes Complete with
This tattoo kit, although considered a small sized one, comes with many essential equipment and components. This package comes with the following: A total of two Inkstar tattoo machines, a black Colt and silver Colt, the black Colt for lining and the silver for shading. One Voltz power supply, a generic version of the Valsturd Voltz power supply that runs just as well. A foot pedal and clip cord for the power supply. The Tattoo Equipment and Supplies Crash Course which is an essential guide if you are just starting out and have no clue as to what any of the components in your kit does. Holy Flash 6000 CD which will give you an immense amount of artwork designs to practice with. A total of 5 disposable ink cup holders that have many ink slots. If you are practicing, it is possible to simply wash these ink cup holders with green soap or detergent. If you are doing skin work however, you must use a new and properly sterilized ink cup holder each time you do a new tat. A total of 4 Freedom Ink practicing ink in brown, red, green and purple. Please note that in the picture the ink bottles and colors may not be an accurate depiction of the ink set in this kit. A pack of 50 Hildbrandt premium brand assorted needles with 3RL x 5, 5RL x 5, 7RL x 5, 9RL x 5, 5RS x 5, 7RS x 5, 9RS x 5, 5M1 x 5, 7M1 x 5 and 9M1 x 5. A total of two aluminum tube grips with tube stems for your stainless steel tubes and disposable tubes. Stainless steel tubes/tips set that comes with a total of 10 tips. Other basic components include a pack of O rings, rubber bands pack, tattoo machine springs repair kit and a pack of grommets.
Tattoo Kit Components Checklist
1. Inkstar Colt Tattoo Machine in Black, Liner
2. Inkstar Colt Tattoo Machine in Silver, Shader
3. Voltz Power Supply, 110V
4. Freedom Practice Ink, total of 4 bottles
5. Tattoo Equipment and Supplies Crash Course
6. Holy Flash 6000 CD
7. Springs Repair Kit
8. Hildbrandt Premium Needles Pack
9. O rings pack
10. Rubber bands pack
11. Foot Pedal
12. Clip Cord
13. Silver Aluminum Grip with Tube
14. Black Aluminum Grip with Tube
15. Stainless Steel Tubes/Tips Set (total of 10 pcs)
16. Grommets Pack
17. 5 Disposable Ink Cup Holders
DOES NOT COME WITH PRACTICE SKIN
Product Code: TKI2
Out of stock
Only logged in customers who have purchased this product may leave a review.