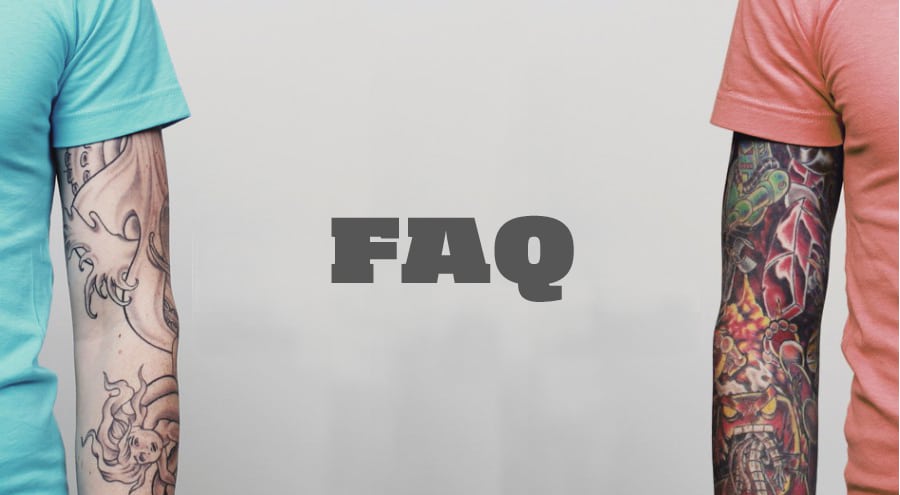 How to contact us?
Email us at Support@tattoomachineequipment.com or call us toll free at 1-888-944-8841. Our toll free line is open from 8am to 7pm Pacific Standard time from Monday to Friday.
How do I order?
You can order directly from our website, email us with your order or call us toll free at 1-888-944-8841. Our toll free line is open from 8am to 7pm Pacific Standard time from Monday to Friday.
Who the Hell are you Guys?
Hildbrandt Tattoo Supply started out in David and Mark Hildbrandt's garage in 2004.  A humble small business building tattoo machines and tinkering with power supplies.  The Hildbrandt brothers partnered up with David's old college friend Newton, the marketing whiz, in 2006.  Today, our machines and products are used by thousands of tattoo artists all over the world.  It is hard to believe that a decade has passed so quickly.
How do I pay?
You can pay on our website with MasterCard, Visa, American Express, Discover or a Paypal account. We can also take Visa, MasterCard, American Express and Discover card orders on our toll free line. If you would like to email us instead, we can take an order via email and send you an electronic invoice for the total which can be paid via credit card or Paypal. We also accept money order, cashiers checks, direct bank transfer and Western Union wire transfer, email us for details on how to pay using these methods.  If you are using American Express or Discover card, please use Paypal at checkout instead of the credit card checkout.
How come I am getting an error message when I pay?
This may be due to 1 of 4 possible reasons.
Your credit card company does not allow you to make online purchases.  You may have to call your credit card company to see if they can lift this restriction on your card.
Your credit card company does not allow you to use your card for foreign transactions.  Our main payment bank through our merchant processor is in Canada so if your card is a valid in the USA only card, it may not work.  Usually cards that are valid in the USA only, will say so on the back.  You may be able to release the block by calling the number on the back of your card to ask them to temporarily remove the restriction so you can order.  Another way around this problem is by using Paypal to process the transaction as a guest.  As a guest, you do not need to sign up for a Paypal account to use Paypal to process your credit card.  This solution may work for some Prepaid credit cards.
You are using a Check Debit card or Prepaid Credit card that has just enough funds for the transaction but not enough funds for additional service charges the credit card company is charging you.  All prepaid credit cards and some debit cards charge a user fee per transaction. If your order was $100 with shipping included and you had exactly $100 in the card, it may be that is not enough to cover the user fees of the card.  For example, if the purchase was $100 and if the transaction fee was 2.5%, then you would need $102.50 dollars on the card in order to pay for the transaction.
Your Prepaid Credit Card is a temporary card.  Some Prepaid Credit Card providers will issue you a temporary card at the store you bought it from and then mail you the official card a week later.  From our experience, usually the temporary card will not work for online payments, while the official one they mail you, will work.
Can I pay with a Prepaid Credit Card?
Yes but not all prepaid credit cards will work for online transactions.  Also, not all will work if it is a foreign transaction, since our payment processing bank is in Canada, if you are in the USA or any other country other than Canada, your prepaid credit card company may treat the transaction as foreign.  There are Prepaid credit cards that will work for online transactions and are international.  Two well known ones are the Green Dot Prepaid credit card and the Paypal Prepaid Mastercard.  Please note that for the Green Dot, the temporary one they give you may not be used for online transactions, however the actual one they issue you will work.

Where are we located?
Head Office
13980 Maycrest Way, Unit 113
Richmond BC V6V 3C2
Canada
US Shipping Office
1582 Gulf Road #661
Point Roberts WA 98281
USA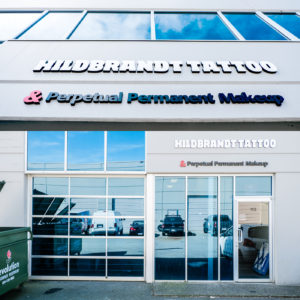 Our store at 113-13980 Maycrest Way in Richmond BC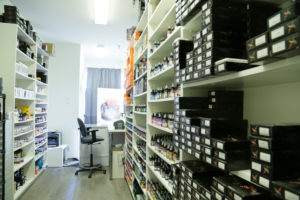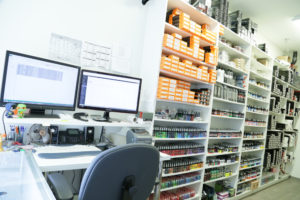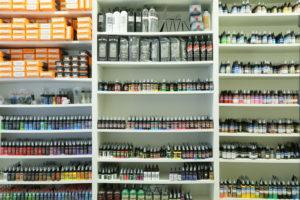 Interior of our store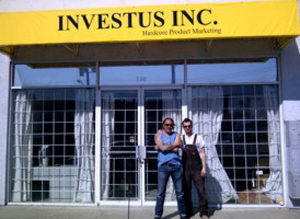 Our first store on Vickers Way, back in 2011!
Do I have to pay import taxes or sales tax?
If you live in the USA, there is no import taxes because of the NAFTA Free Trade Agreement. There are no State taxes because we are out of state. If you live in Canada, there is HST. If you live in BC, there is 12% HST. If you live internationally (UK, Europe, Asia, Southeast Asia, etc..) there are no taxes charged leaving Canada, however, be sure to check your own countries importation rules and customs taxes to see if there may be some taxes incurred by your government.

How do I spot a fake / counterfeit Hildbrandt machine?
Counterfeit Hildbrandt Machines: There are suppliers selling fake Hildbrandt machines. You can identify them by their thinner frames and lack of a model designation on the frame base. Only Hildbrandt machines come with a codified production series number. If you think you may have purchased a counterfeit Hildbrandt, email us with the productions series number and we'll be able to tell you if its real or not. All Hildbrandt machines 2007 and after have their frames etched with the Hildbrandt brandname on the face side of the frame and the model name etched on the base of the frame. All Hildbrandt machines 2007 and after come with codified warranty certificates. All pre 2007 Hildbrandt machines will only have the Hildbrandt brandname etched on the face side of the frame. There are about 400 Hildbrandt machines that were sold in 2005 that don't have any markings at all. All 2013 and current Hildbrandt machines utilize a 22uf capacitor and either a 50WV or 63WV, this will be printed on the side of the capacitor.  If you think you have a fake Hildbrandt machine, please note where you purchased this machine and contact us at support@tattoomachineequipment.com
Does Hildbrandt manufacture Inkstar machines and equipment?
Inkstar is the entry level brand of Hildbrandt. Although the equipment are not made in Canada, we have incorporated our design, technical expertise and quality control to make a great imported product. Compared to similarly priced imports, Inkstar machines are capable of needing less voltage to run while able to push small to medium and even some of the bigger mag needle groups most imports can barely wiggle.
How long does it take to receive my order?
If you live in the USA we ship via USPS and UPS.  For most orders we ship via USPS Priority and this takes 3-5 business days to receive.  If your order is too big to fit in a USPS large flat rate box, we will ship your order via UPS which takes 3-7 business days to receive.
If you live in Canada, we ship via Canada Post Expedited and generally takes 3-7 business days to receive.
If you live in Europe, Asia, Australia, New Zealand, South America it will take 5-9 business days from the date your payment clears for tattoo kits, 7-12 business days for parts, supplies, inks, permanent makeup kits and tattoo machines.

How can I track my order?
You will receive a tracking email within 24 hours of shipping, please note it may take 24 hours for us to process your order. If you do not receive this email, please check your spam folder as the email sometimes gets blocked by email filters.

How does the warranty work?
All Hildbrandt products come with a 6 month Hildbrandt Comprehensive Warranty. Please review the warranty certificate that came with your purchase for details. All Valsturd and Perpetualbliss products come with a 6 month in house warranty that covers any manufacture defect.

How can I submit my work to the Hildbrandt Artists & Gallery Section?
Please email us with the pictures of your work. Include your name, comments, inspirations, contact information and your shop name. After our review, a profile will be created for you on our website and your pictures will be uploaded the next time we update.

Shipping Information
USA
We ship via USPS and for heavier multi-item orders, via UPS.  Tracking email is sent to you within 24 hours of shipping, if you do not receive, please check spam. Typical shipping times is 3-5 business days for USPS and 3-7 business days for UPS.
Canada
Orders are shipped via Canada Post. This service can only be tracked by Canada Post internal servers and does not have consumer online tracking. Typical shipping times is 3-7 business days.
International – Any country outside of North America
International orders are shipped via USPS International Priority. Typical shipping times is 7-12 business days. Tracking email is sent to you within 24 hours of shipping, if you do not receive, please check spam folder.
Business day is defined as Monday to Friday excluding Saturdays, Sundays and Holidays. All shipping couriers count days by business days.
Express Shipping
Express shipping can be added to any order but you will need to call us to request it.  Additional charges for express shipping will apply.
Warranty on Products
All Hildbrandt products come with a 6 month comprehensive warranty. We pride ourselves with excellence in our products quality and our service to you. The warranty terms are stated on the warranty certificates that come with our Hildbrandt products. All warranty certificates are codified with a productions series number.
All Valsturd and Perpetuabliss products are covered in house by Investus Inc. with a 6 month warranty from manufacture defects. For warranty claims, please contact us atwarranty@tattoomachineequipment.com
Link Exchange
We have a traffic volume of over 1000 unique visitors a day. If you have a website related to the tattooing industry and would like a link partnership, email us at support@tattoomachineequipment.com. Related tattoo websites like blogs, wordpresses, news and forums are acceptable as well.
Authorized Resellers of Hildbrandt & Inkstar tattoo equipment
Retailor of Hildbrandt products in Mexico.
Online eCommerce multi channel reseller
Online eCommerce multi channel reseller
Links to Friends
Check out these links to our friends